Just Relax and Enjoy, Everything Will be Taken Care of  By the birthday party planners in Navi Mumbai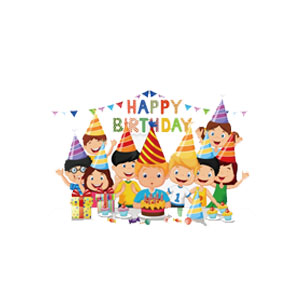 Birthday party planning can be done by amateurs as well as professionals. You may be planning to host a party for an important family member or want to treat your family and friends on your birthday. You may have hosted a number of birthday parties and are aware of what is needed or you may be hosting such a party for the first time in your life. 
What all is involved in hosting a birthday party?
You need to select a venue, print and distribute invitations (you can just call or email, as you feel right depending on the number of guests you are inviting), arrange decorations at your chosen venue, choose and book a caterer for what you want to feed your guests (they may prepare the birthday cake or you can order it from the bakery of your choice), photographers or videographers depending on your budget and suitable attire for the day to welcome and treat your guests.
Leave planning to the experts
Birthday Party Planners in Navi Mumbai are capable of planning as well as any planners in Mumbai. Navi Mumbai has residents serving in all humanly possible professions, from CEOs to the office boys and all of them have birthdays. If it is a small treat, yes, you can go to a cafe or fast food restaurant and celebrate, but in the case of a larger number of guests, who you may want to impress for numerous reasons known only to you, you must hire birthday planners. 
Planning for Little one's special day
Kids Birthday Party Planners in Navi Mumbai may be able to serve on your child's birthday party better than other planners. They are in contact with kids gaming experts and other kids entertainers like magicians. They are highly experienced in decorating with hundreds of balloons and other items. Most of them specialize in preparing huge cakes weighing several Kilograms depending on the number of guests you are inviting, as none of them must go without a slice. There are specialist first Birthday Party Organisers in Navi Mumbai, too. They are highly experienced with the appropriate decor for such occasions. Some of them bring toys and swings, slides that kids will enjoy.
How we help you with planning a Happy Birthday Party?
ZoopGo goes for Birthday Planning where no one else can go. Instead of calling all the service providers that I have listed above will take you days before you finalize. Instead of going through all this trouble just choose a birthday party event planner in Navi Mumbai listed with us and we guarantee that you will always get the final results at costs cheaper than if you had planned everything yourself.
The steps to follow on ZoopGo
Just select birthday party planners from the small list of our event planners, Then select the services - all of them or a particular one based on your needs, your budget range, the number of guests you are expecting, date, and venue where you plan to host the venue. Within minutes you will have the 4 best quotes from us, listing your exact matches on your mobile.