Shortlist and Hire the Best Photographers in Nashik from ZoopGo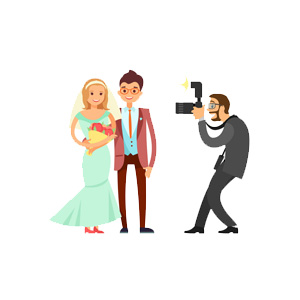 Looking for photographers in Nashik? Choosing the right platform will help you choose the right service provider for the move. They capture this vibrant city's essence through their lens. They have a keen eye for detail and a passion for storytelling, they transform moments into timeless memories. From the lush landscapes of vineyards to the bustling markets, they skillfully depict the city's diverse facets. Whether weddings, events, or portraits, these photographers bring creativity and professionalism to every frame. 
Types of events for which you can hire photographers in Nashik 
Photographers offer their services for a wide range of events, capturing the essence and emotions of each occasion through their lens. Some of the types of events for which you can hire top photographers in Nashik include:
Weddings: Nashik's beautiful landscapes provide a picturesque backdrop for weddings. Wedding photographers specialize in capturing the rituals, emotions, and moments that make each wedding unique.
Corporate Events: From conferences and seminars to product launches and award ceremonies, the best photographers in Nashik document corporate events with professionalism, ensuring that important moments and interactions are captured for promotional or archival purposes.
Cultural Festivals: Nashik is known for its vibrant cultural festivals, such as the Kumbh Mela and various local celebrations. Photographers skillfully capture the colors, rituals, and enthusiasm that define these events.
Parties and Celebrations: Whether it's a birthday party, anniversary celebration, or a festive gathering, photographers with nominal photography charges in Nashik can capture the joy and camaraderie of such events, creating lasting memories.
Pre-Wedding Shoots: Couples often choose Nashik's scenic locations for their pre-wedding photoshoots. Photographers can showcase the couple's chemistry against the backdrop of vineyards, hills, and historic sites.
Fashion Shows: The city's budding fashion industry hosts fashion shows and exhibitions. Fashion photographers capture the designs, models, and the overall atmosphere of these events.
In summary, photographers are versatile in their expertise and are available to capture a wide range of events, ensuring that the memories and experiences from these occasions are beautifully preserved for years to come.
How can I identify the best photographers in Nashik? 
Identifying the best photographers near me involves a thoughtful evaluation of their skills, portfolio, and reputation.
Portfolio Assessment: Examine their portfolio to gauge the quality and consistency of their work. Look for a diverse range of well-composed and creatively captured images that resonate with your preferences.
Reviews and Recommendations: Read customer testimonies and reviews before making your decision. Positive reviews demonstrate competence, dependability, and client pleasure.
Technical Proficiency: The best photographers exhibit a strong command of camera settings, lighting, and post-processing techniques, resulting in polished and visually appealing images.
Creativity: Look for photographers who showcase unique perspectives, innovative compositions, and the ability to tell compelling visual stories.
Experience: Experience often correlates with expertise. Seasoned photographers tend to handle various situations with confidence and adaptability.
Personal Connection: Chemistry matters. A photographer who understands your preferences and makes you comfortable during shoots can enhance the overall experience.
Quality vs. Price: While cost is a factor, prioritize quality over a lower price. Investing in the best photographer and their photography charges within your budget ensures memorable and exceptional results.
Therefore, an appropriate balance between these factors can help you identify the best photographers for your specific needs.