Booking Pest Control in Nagpur: Simplifying Pest Management with ZoopGo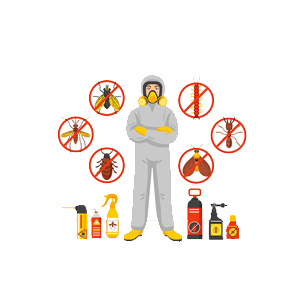 Nagpur, also popularly known as the "Orange City" due to its vast orange orchards, is a city that thrives on nature's beauty and bounty. However, this lush green environment can also attract unwanted guests in the form of pests. Whether it's mosquitos, termites, rodents, or any other unwelcome critters, Nagpur residents understand the importance of effective pest control to maintain the harmony between urban life and the natural world.
The Challenge of Pest Control in Nagpur
Nagpur's unique blend of urban and rural landscapes presents residents with distinctive pest challenges. The city's abundant green cover, including rice fields, forests, and gardens, provides an ideal breeding ground for pests. The warm climate, while pleasant for most of the year, can also contribute to mosquito-borne diseases during the monsoon season. Additionally, Nagpur's architectural heritage makes it susceptible to termite infestations, which can threaten historical landmarks and residences. Hence, going for the effective pest control treatment in Nagpur will ensure that your home and other properties remain safe and you lead a healthy lifestyle.
Why Choose ZoopGo for Pest Control in Nagpur?
Local Expertise: ZoopGo understands the specific pest challenges that Nagpur faces. Our platform connects you with local pest control experts who are well-versed in the behavior of local pest species. They have a deep understanding of Nagpur's unique ecosystem, ensuring effective and sustainable pest management.
Eco-Friendly Solutions: In a city that treasures its natural surroundings, ZoopGo prioritizes eco-friendly pest control methods. The providers of pest control services in Nagpur recognize the importance of preserving the city's delicate ecological balance. Therefore, we connect you with pest control services that use environmentally friendly techniques, ensuring that the city's lush greenery remains unharmed.
Comprehensive Pest Control Services: ZoopGo offers a wide range of pest control services to cater to Nagpur's diverse needs. Whether you require residential, commercial, termite control in Nagpur or agricultural pest management, we have you covered. Our experts are equipped to handle termites, mosquitoes, rodents, ants, and more.
Hassle-Free Booking: Booking pest control services in Nagpur through ZoopGo is a breeze. You can access our platform from the comfort of your home and select from a list of trusted pest control providers. Our user-friendly interface makes the booking process smooth and hassle-free.
Competitive Pricing: The service providers associated with us understand the value of your money. ZoopGo ensures that you receive competitive pest control charges in Nagpur. You can compare quotes from different service providers to choose the one that fits your budget.
Customized Solutions: Nagpur's pest control needs are as diverse as its landscapes. ZoopGo connects you with service providers who offer customized solutions tailored to your specific requirements. Whether it's termite treatment, mosquito control, bed bug control in Nagpur or general pest management, our experts have you covered.
Preserving Nagpur's Natural Harmony with ZoopGo
Nagpur's identity as the "Orange City" is not just a testament to its lush orange orchards but also to its commitment to maintaining the delicate balance between urban living and nature. ZoopGo shares this commitment, striving to provide residents with pest control solutions near me that safeguard their homes, agricultural resources, and the surrounding environment.