Find the Best Event Planner in Nagpur for Wedding and Other Parties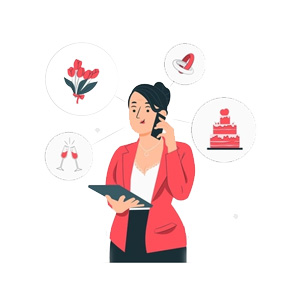 Nagpur the Orange City of India is the biggest Industrial hub of Maharashtra. They celebrate every event and festival with joy and zest. From Ganesh Chaturthi to the Hanuman Jayanti they make the celebrations highly enthusiastic and lively. So, this Ram Navami on April 10, will be celebrated around the city. That's why a professional Event Planner in Nagpur will arrange all the food and fest for a perfect celebration.
The event planners plan, organize, coordinate and manage the entire fest. It can be a wedding, any festival, Music concert, Business meetings, etc. So, they work with complete responsibilities that meet the customer's expectations.
Are you still worried about where and how to book genuine Event Organizers in Nagpur? Or, you're still confused by their sugar coating commitments and promises. Argh!.... Why is it so challenging to appoint a perfect event planner? Don't worry ZoopGo is the superhero for the end of your search. It means you can find genuine event Planners.
What are the easiest ways to book genuine Event Organizers at ZoopGo?
Believe it or not but we're the one-stop solution where you easily customize your requirements for easy pre-booking. For many years ZoopGo has been the best and most highly recommended web portal in India. Here is the procedure where you can easily find genuine event planners near you.
Visit zoopgo.com and go through our genuine web portal.
You can customize the list according to your nearby location and budget.
Connect with them and ask about what you want.
Even our professional customer support services will be available where you can easily clear all your queries and doubts.
Then choose any date and Book.
Now you know the easiest way to book experienced Birthday Party Planners in Nagpur on our web portal. Apart from that we also offer multiple event planning services at your place.
What are the types of Event Planning services we offer?
Here you can find multiple types of event planners near you. Now it'll be easier to get the services at your place where you can get the best event planning services according to your requirements.
Social Event planners
Corporate or any commercial event planners
VIP or Award Ceremony Planner
Milestone Birthday & Anniversary Planner
Baby & Bridal/Wedding Shower Planner
Bachelorette & Holiday Party Planner
Or More
Are you sick of planning your wedding? Or do you want to get rid of the boring Party? Hey! You need to book wedding planners in Nagpur where it will be easy where you can double-up the joy and happiness.
Do you have any queries?
If you're having any queries and doubts then it will be easier to explore our official web portals and get the quality of services at your place. Our experienced Customer care service providers will be available to consult you. You can connect with us at 1800-12312-9655 or mail us at [email protected]. Now you can book genuine party planners in Nagpur at ZoopGo. It will be easier to know why we're highly preferable to offer you the best services to you.