Book the best pest control services in Kandivali East through ZoopGo for a pest-free space!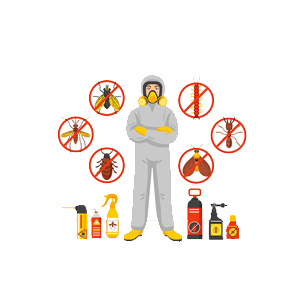 How to get rid of termite naturally?' Stop Googling it right away! You are just wasting your time, money, and efforts. Pests like termites, bedbugs, mice, cockroaches, etc., are nasty and special treatment is required to treat them. If you don't contact a professional pest control service provider on time, thinking a small termite trial is harmless. Soon, you will realize it has grown into a long one. It will not only create an ugly patch on your wall or furniture but damage it as well. Pests, if ignored, multiply quickly and become a nuisance. Hence, with the first sign of infestation, you must reach out to ZoopGo, India's most-trusted value aggregation service (VAS) portal, to find the best solution for pest control in Kandivali.
Why professional pest control services?
Pests can compromise the structural integrity of a property and cause severe disease. They are notoriously difficult to control with a DIY approach. Hence, hiring pest control experts is the best way to bring down the population of pests effectively. Professional pest control services can save you time and money in the long run. Furthermore, you can book the best service providers for bed bugs treatment in Kandivali through ZoopGo.
8 Most annoying pests around Indian houses:
Ants
Termites
Bed bugs
Spider
Mice
Flies
Mosquitoes
Lizard
7 warning signs of pests infestation:
If you see or sense any of the below-mentioned activities in your residential or commercial space; your must book professional pest control in Kandivali East through ZoopGo to eliminate pests and enjoy living in a pest-free space peacefully. 
Active pests
Evidence of nesting
Physical damage to building or wood structure
Droppings, shed wings, empty eggshells, etc.
Damaged plants
Dead bugs
Foul smells
Why ZoopGo?
ZoopGo is India's most trusted value-aggregation service (VAS) platform with 2000+ certified and licensed partners. It has served 790000+ customers so far. For the past 10 years, it has been working with the sole aim to provide customers with high-quality, value-added services by connecting them with the right service provider. ZoopGo is a one-stop solution for those looking for best pest control services in Mumbai. With ZoopGo, one can avail of professional and best-priced services under one roof at the click of a button. Furthermore, you can say goodbye to termites, by booking the best service providers who offer termite pest control in Kandivali East through ZoopGo.
Offerings that set us apart -
Verified, registered, and licensed partners
Quick quotes
Dedicated round the clock customer support
Dashboard for actionable insights
Responsiveness and flexibility
Transparent and cost-effective solution
Professional pest control services in Kandivali are just 3 steps away -
Step #1 - Share your requirements with us to get the First Four Free Quotes. You can book professional lizard control in Kandivali East through us.
Step #2 - Check and compare quotes.
Step #3 - Call & book!
Reach out to us for the 'Best pest control services near me.' We will connect you with the best service partners. For further queries call us on our toll-free number 1800-12312-9655. Moreover, you can download our application from Google Play Store and book our services anytime, anywhere, at your convenience.