Get the best videographers in Mumbai only at ZoopGo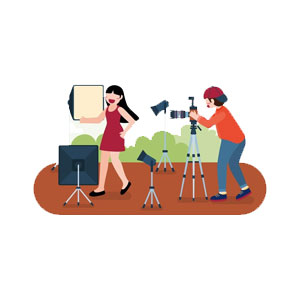 Whether it's your wedding or any other celebrations. Videos and photography are a must. It makes the entire moment memorable for a lifetime. This is the only reason why people prefer to appoint professional Videographers in Mumbai. Well, they work in the manner of recording the entire videos and transforming them into a filmography.
Nowadays, most people prefer to do pre-wedding videography. Well, they create each and every moment in the formation of movies and films. It's like your dream is becoming the reality. So, now you know the reason why people prefer to book them.
At ZoopGo it's easy to book any genuine videography or photography services according to your requirements. Because there are multiple services providers out there. All you need to explore them and finalize any genuine one. So, here you can explore them on multiple platforms. For many years we have been trustworthy for our users. It means there are 0% doubts and the rest 100% genuine services.
How ZoopGo is the first choice for Wedding Videography?
There are multiple videography services available. So, it's a bit challenging to find any genuine one. Here you don't need to worry. At ZoopGo you will end up with an experienced one.
We prefer to understand all your A to Z requirements for further profitable services.
After that, you don't need to worry about any delay or procrastination.
All of our service providers are experienced.
So, you will meet with your expected services.
Therefore, you can ask for the camera quality and the clarity of the entire video.
Hence, you don't need to worry about the charges according to the entire package.
Our professional customer support team will help you to clear your doubts and queries.
After that, it's completely easy to pay the amount for further better services.
So, you can enjoy your best videography for the wedding.
Now the above-mentioned guidelines are highly preferable for further better services. In this way, it's easy to book a professional Videographer near me on our web portal.
What are the benefits of appointing professional videography services?
There are many types of videography services. They work in the manner of capturing each and every moment. If you hire a videographer then they will facilitate you in many ways.
Suggesting your poses
Customize the best costume ideas
Capturing the candid moments
Editing the effects
Slow-motion and monochromic filters
Reasonable charges
And much more
These are the things to know before you're going to appoint any genuine providers. After that, you don't need to struggle anymore.
For doubts and queries!!
We understand all your queries and doubts. So, here it's easy to connect with us at 1800-12312-9655. For more, you can visit www.zoopgo.com to get the best aerial videography services in Mumbai. You can ask about the charges, services, procedure of work, or more. So, now you know why people prefer us.
You can even book us for weddings, catering, photography services, or more. Here, we're always available for the best customer service.