Book Personalized, Quality Car Repair Services in Mumbai through ZoopGo at Pocket-friendly Prices!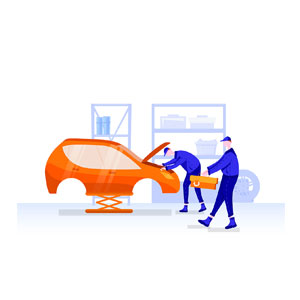 A car is not just a means of transportation but a faithful companion that offers convenience, safety, and ease of driving. From best to muddy and slushy, it always strives to serve its owner with the utmost sincerity, irrespective of time and condition. Therefore, this beloved driving machine deserves premium-quality treatment by certified mechanics who have a good deal of training and experience offering car repair services in Mumbai. If you are finding it difficult to pick the perfect mechanic for your driving machine, consider reaching out to ZoopGo to discover and connect with the top-most garages near you for the best custom car repair services at prices that suit your pocket.
The importance of professional car repair and maintenance! 
Mumbai, the financial capital of India, creates hundreds of thousands of work opportunities every year, bringing thousands of people here. According to several reports, every day, 36 lakh commuters use Mumbai's suburban train network (local trains). In a nutshell, increasing the population has put an immense strain on existing public transport. Therefore, having a car has become a necessity in Mumbai. Having a car is a significant investment. Therefore, periodic car service in Mumbai is crucial to ensure it stays longer on the road and offers optimal results. Advantages of auto repair and maintenance:
(1) On the road, dependable
(2)  Increase safety.
(3) i ncrease the car's lifespan 
(4)  car's performance at its best 
(5)  Higher resale value
(6)  It lowers the cost of fuel 
(7)  Saving money in the long run
A car service is a maintenance check-up that is required to be carried out at set intervals (once every year or every 10,000–12,001 km). Professional and certified mechanics associated with ZoopGo offer top-notch car repair and maintenance in Mumbai. Services that are included in auto repair:
(1) Interim Car Service - Well-known as "bronze service," it typically includes a complete car inspection, oil change, filter change, etc. Moreover, you can book quality car dent repair in Mumbai through us. 
(2) Full car service - Also known as Silver service, it's recommended every 12000 miles or 12 months, whichever comes first. It includes a more comprehensive range of checks, such as car scratch repair, air filter change, fuel filter (diesel), spark plug change (petrol), extensive brake inspection, radiator and coolant hose checked, car ac repair in Mumbai, etc.
(3) Premium car service - Widely known as gold service, is highly recommended every 24000 km or 24 months, whichever comes first. This service package includes everything. These services are a must to avoid severe consequences on the road, ensuring your car runs smoothly. Moreover, you can save up to 25% on booking car audio system repair in Mumbai with us.
Pampering our customers endlessly with quality offerings! 
Instant free quotes from certified garage partners 
Excellent services at competitive prices 
An excellent chance to save up to 25% on auto repair
Providing actionable insights with the review dashboard
Short notice booking facilities are available 
You are just a few clicks away from the best car repair services! 
Are you looking for a car repair near me?' If so, then reach out to us. You can call us on our toll-free number 1800-12312-9655 or fill in your query with your contact info on the form listed on our portal to connect with the best car repair center in Mumbai.