Hire the trusted and top-rated Photographers in Jaipur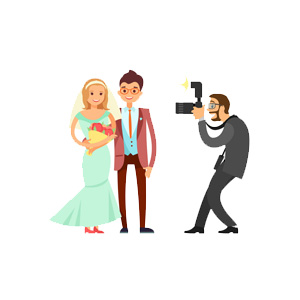 During any joyous and blissful moment in life, there comes a vigorous desire to capture every precious moment. Pictures grab this responsibility and let you preserve every minute of that event. But a winning horse needs an experienced rider. Similarly, a perfect picture needs a skilled photographer. Here, ZoopGo understands the value and thus collects the best possible photographers in Jaipur for you. Experts who click to express, not just to impress.
Explore a variety of Top photographers in Jaipur with ZoopGo
The royal city of Jaipur has its own hierarchy. The forts, palaces, and beautiful havelis denote the wonderful glory and culture of the magnificent city. Hence, the same cultural bliss is infused in the veins of the city's people. This is why ZoopGo is best known for connecting with the top photographers in Jaipur. We verify the service providers with their documents, skills as well as their perceptions about the costumes.
You don't need to worry more about the high rates, wandering for perfectionists, selecting from the crowd, and other formalities. ZoopGo has already done this all for you. You just need to scroll through your desired photography service. Yes, ZoopGo provides you with a variety of photographers. Whatever your need- ZoopGo has a solution for you!
A wedding is one of the most memorable moments of one's life and thus no one wants to risk their memories by hiring poor photographers. ZoopGo lets you talk with the best photographers in Jaipur, who steer traditional bliss to your wedding album. 
You can hire a regular photographer for your pre-wedding shoots or general couple snapping, but it ruins the feel. Because birthday photographers don't know the classic themes and tones used for couple shooting. Here, ZoopGo filters out some specific experts of the same event.
Corporate Event Photographers:
Yes, ZoopGo has such organized and explored varieties that you could even find some specialist corporate photographers. However, people always tackle giant fees to hire corporate professionals. But here you could find the experts having under-budget photography charges in Jaipur.
People want to celebrate their birthdays in a unique way every year. How the person changes, the new friends' person invites this year, and most importantly the surprise; these elements are precious to be captured in pictures. Here ZoopGo some specified photographers specialized in clicking birthday images. 
Why would ZoopGo be your only choice?
Just think for a minute that you're searching for photographers near me, and you find some results. Now, what would be the guarantee that you get the desirable and authentic service? Nothing! This is the biggest problem ZoopGo removes throughout the service industry.
We provide you with completely verified and licensed photographers. Our platform never lists any unlicensed, unskilled, or beginner service providers. Furthermore, to get any service you don't need to fill out the long form or share your complete details. Just tell us your needed service and location, and we'll provide you with around 4 quotes just a few minutes after your request verification.
Hence, let ZoopGo hold your responsibilities, you just need to sit on your couch and choose the best option for you.