Treat Deadly Pests in your home with the help of Pest Control Services in Jaipur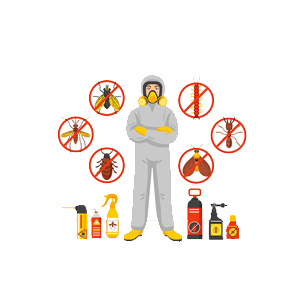 Pest Control is important to maintain a healthy and positive environment in the house. In your daily routine, you might be busy doing tasks and not have enough time to clean the house. We completely understand that you cannot do everything and that you need support from professionals to do the task well. Here is why ZoopGo is there for you to provide pest control service. 
Which type of pest control should I hire? 
There are various types of pest control services that you can hire to treat pests in your home, some of them are chemical pest control, herbal pest control, physical methods and more. Also, you can choose specific treatments to treat specific pests like termites, rodents, lizards and more. The type of pest control you choose will depend on your personal preference and the severity of the infestation. Generally, most people choose chemical pest control, which is widely used due to its effective results. 
ZoopGo Pest Control Services—Is it worth it to hire or not? 
ZoopGo is one of the most trusted platforms by many users for its professional services and is known for its expert service providers. Here are some of the reasons that will help you confirm that your decision is worth it. 
Who are the best pest control providers in Jaipur?
The top Google-verified pest control service companies in Jaipur are listed below, and they all perform an excellent job at it. These service providers are chosen based on client feedback, ratings, and reviews.
1. Usspestcon Services Pvt Ltd
Address: Rajasthan, 68-36, Heera Path, Mansarovar, Jaipur, Rajasthan 302020
Rating: 4.9
Reviews: 957
Expertise Services: Home Pest Control, Corporate and Industrial Pest Control 
2. Control Services Jaipur
Address: 1, Sagar, near Indo Bharat International School, Nirman Nagar, Jaipur, Rajasthan
Rating: 4.7
Reviews: 137
Expertise Services: Residential and Farmhouse Pest Control
3. RPCS Rajasthan Pest Control Services Pvt Ltd
Address: 75, Bais Godam Cir, Hari Marg, Jai Ambey Colony, Civil Lines, Jaipur, Rajasthan 
Rating: 4.8
Reviews: 367
Expertise Services: Industrial Pest Control, Residential Pest Control
4. Green City
Address: 1, Kalyan Nagar, Khatipura Rd, Jaipur, Rajasthan
Rating: 4.8
Reviews: 415
5. Shiv Pest Control (SPC)
Address: 2nd Floor, Shiv Tower, Kumbha Marg, Sanganer, Sector 11, Pratap Nagar, Jaipur, Rajasthan 
Rating: 4.9
Reviews: 257