Hire Best Photographers in Indore Hassle Free With ZoopGo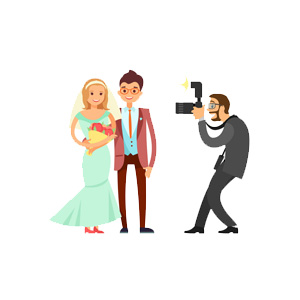 In life, certain moments are worth preserving - a wedding, a significant milestone, or a corporate achievement. The ability to capture these precious moments lies in the hands of the best photographers in Indore who can transform them into lasting memories. For those in search of excellence in Indore, ZoopGo stands as the preferred platform for booking photographers.
Introducing ZoopGo: Your Prime Destination for Booking Photographers in Indore
ZoopGo isn't just an online platform; it's a meticulously curated hub that connects you with a diverse range of reputed photographers in Indore. Our platform boasts an intuitive interface that allows you to explore and evaluate photographers, each with their distinct style and specialization. No more sifting through options or negotiating prices - ZoopGo simplifies the process.
A Variety of Photographers for Every Occasion
Diversity is at the heart of ZoopGo. Whatever the occasion, we offer a multitude of top photographers in Indore catering to various preferences. From classic to contemporary, weddings to fashion shoots, candid captures to poised portraits - our platform is a gallery of photographic expertise spanning multiple genres. Browse their portfolios, view their previous work, and read client reviews to make an informed decision.
Dedication to Unparalleled Excellence
We understand the significance of quality in photography. ZoopGo ensures that every photographer on our platform is not just professional, but experienced and skilled. Each photographer undergoes a rigorous selection process, reflecting our commitment to excellence. With ZoopGo, you can trust that your chosen photographer will deliver outstanding results.
Effortless Booking, Outstanding Outcomes
Booking a photographer in Indore near me through ZoopGo is as simple as it gets. Visit our website or use our app, input your preferences, and explore profiles of photographers who align with your vision. Compare their offerings, read reviews, and even directly communicate with them to discuss your requirements. The final booking process is streamlined and convenient.
Transparent Pricing, Honest Transactions
Transparency is fundamental to ZoopGo. Our platform provides comprehensive photography charges in Indore, empowering you to make a well-informed decision based on your budget. There are no hidden costs or surprises - what you see is exactly what you get. ZoopGo stands as a reliable platform for those who value straightforward transactions.
Customer Satisfaction as Our Guiding Principle
Your satisfaction is our top priority. ZoopGo is designed to make the photographer booking process seamless and rewarding. We take pride in providing a platform that simplifies the process while ensuring top-tier results. Testimonials from our satisfied customers speak to our unwavering dedication to excellence. 
Hire Top Photographers in Indore With ZoopGo For Unforgettable Experience
ZoopGo redefines photographer booking in Indore. With a diverse range of photographers, transparent pricing, and a user-friendly interface, we make finding the ideal photographer a hassle-free experience. Whether it's a grand wedding or an intimate celebration, ZoopGo connects you with professionals who possess the artistic flair and technical prowess to capture your moments perfectly. Say goodbye to the complexities of photographer searches - let ZoopGo guide you towards a seamless and exceptional experience.