The role of the Videographer in Hyderabad has evolved over the last decade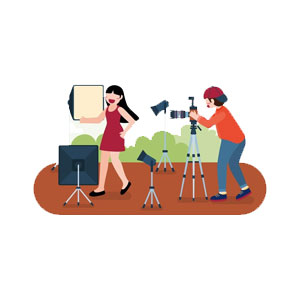 Yes every picture is worth a thousand words, yes it tells a story. But what about videos, they are a new way to tell your story for the day. You will not just record a moment but every moment of importance to you. Every Videographer in Hyderabad is in huge demand with the increasing demand for them at various occasions. Today it's a common practice to invite videographers for religious festivals like Holi, Ganesh Chaturthi where you can record everything as it happened on the day. Earlier when videography started in India we used to have video cassette players, then came the CDs and DVDs. Today we can easily share our videos online. Most smartphones today give you the opportunity of recording videos yourself but the professionals always give you something extra.
The occasions that the videographers serve at
Videographers are available for service at your weddings, birthdays, corporate events or any other occasion of your choice. Most of them will accept any assignment while there are some who will serve at only one occasion like those specializing in Wedding Videography. They love working with crowds and they have been through the routine at such parties, umpteen times. When hired by the bride's party they will record the bridal makeup activities. They will be part of the groom's welcoming group as they arrive on horseback. The garland ceremony is given special attention and the dinner is recorded too. They will be up in the morning for the vidai ceremony. These videos are often edited before they are presented to the clients.
The advancements in video cameras
The cameras of these videographers have evolved so much that they are as good as those used for Hollywood movies. We have all heard of the new drone cameras which capture a large area and now some weddings have the Drone Videographer. Drones have the capability of flying high and the cameras attached to them record everything but from a distance. These can show the entire shamiana, however they may be difficult to operate at the night time. They are popular for outdoor parties held in the daytime.
So, where do you find these videographers?
Every photographer in your local market is associated with videographers and they will be able to connect you with them. Else if you want to hire videographer, just try online and you will be amazed at the options available there. Some of them have their own websites where they describe their experience and what their journey so far in the business. Some of them have listed their details on aggregator sites where you can compare the capabilities of different videographers. Others have listed themselves on online directories, where they have their contact details with photos of their offices.
How can you start your career as a videographer?
Though there are established videography studios there are some new entries too. It will be difficult to promote themselves for someone new to the business. So, they describe themselves as a Freelance Videographer. This usually means they are new and don't have a shop or office address. Most of them are selling themselves on the basis of the videos they have captured which may or may not be relevant to the customer but will give them an idea of the quality of work they will be able to do.
The latest technology and videographers
Drones are getting increasingly popular for commercial use. Drone cameras are used by the aerial videography services in Hyderabad. These are expensive equipment to use and using them requires lots of finesse and care. To capture everything as expected by the customer will require a lot of focus and hard work.
Maintaining the balance sheets
Everything in this world costs money and what comes free is generally useless. The Charges of the videographers depend on the time they will spend with you. They will be carrying heavy equipment, focusing a lot and this is quite an effort. As a business they have to cover the cost of their shops and the equipment they are using.
When searching online, if you are looking for a Videographer near me, you must try ZoopGo. We have a well designed requirements form, completing which will lead you to 4 best quotes free of cost, on your smartphone. Alternatively you can connect with us at 1800-12312-9655 to discuss your requirements and queries.