Importance of Cleaning sanitizing companies in Hyderabad in the Time of Pandemic?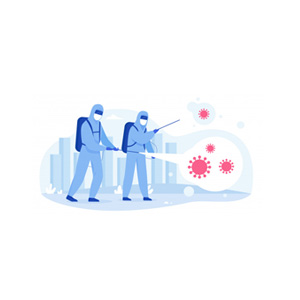 After covid-19 life again starts with some precaution and most of the office and industry start their operation this month with the precaution of sanitization and disinfection of office or commercial space to avoid the threats of spreading the virus. As the demand for sanitization and disinfection is on the higher nodes so it's not easy to hire a sanitization and disinfection service provider in Hyderabad.
How to Hire Professional Disinfection Service in Hyderabad for Office And Home?
To overcome you the hassle of hiring the sanitization and disinfection service provider ZoopGo will help with an easy process of hiring the service provider in your city. When you hire the service provider you should have some questions in mind because its new word we are hearing after COVID-19 sanitization and disinfection so we need to know the process what is this and how does it works
As we are aware of the fact that the covid-19 virus is spread through a droplet by an infected person to another so when we are in the working environment, we don't have an exact idea about others so through sanitization and disinfection service we can remove the virus from the surface and touchable object.
In the process of sanitization and disinfection service used water-based spray which is effective and harmless for others. The professional sanitization expert used ULV Fogger and Mist spraying cleaner which is effective and safe.
They used EPA-approved chemicals which is disinfected the entire surface thoroughly. Expert service providers have services for all types of education institutes, schools, offices, industries, gyms, hospitals and all types of commercial space and homes as well.
Some Benefits of Hiring Office sanitization services in Hyderabad?
Trained and expert service provider relies on non-corrosive technique and powerful disinfection solutions that allows us to perform tasks without any interfering in the normal function of office appliance, computer and furniture. All the touchable objects by employers and other people should disinfect a timely to avoid the spreading threats of viruses and germs. A highly recommended product by industry and Govt. used by a trained expert to disinfect the area.
Service Provide By ZoopGo Trained And Expert Service Provider in Hyderabad.
Home sanitization and disinfection need some prerequisites
Need to empty your kitchen platform
Eatable and medicine should place at safe
Keep ventilation on
Your values should be at the cupboard
You may have some questions as well when hiring the home sanitization and disinfect service provider in Hyderabad
Duration --- it will take hardly 20 to 40 minutes time
A safety – chemical used by experts is safe and effective
Area - The area covered by sanitization and disinfection service provider is leaving the room, bedroom, kitchen, and bathroom
Commercial sanitization and disinfecting services in Hyderabad
Commercial sanitization expert all commercial activity shop, school, educational institute, office, industry, mall etc. To avoid the threats of spreading the virus at your commercial space should do disinfection and sanitization timely.