All You Need Professional Kitchen Deep Cleaning Services in Hyderabad at ZoopGo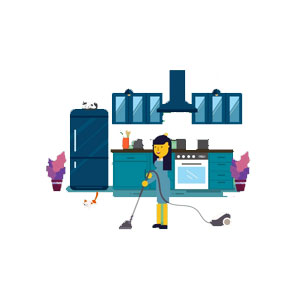 Is your kitchen making you hectic? Well, we can understand that a disorganized cooking platform is not a good gesture. You really need to know how many germs and pests are active on the surface of stainless steel and into the sink. And believe us it makes your kitchen as hell as you ever imagine. So, this time is to show some interest in kitchen deep cleaning services in Hyderabad. Yes, it will be one of the most profitable investments. Here at ZoopGo, we are not limited to only 2 or 3 services providers. The never end process of serving multiple services for many years will never stop. Rather, it's deep cleaning for your home or disinfectant the surrounding. You will find a bit extra for a little best.
What are the smartest ways to make your kitchen tidy?
Every, experienced cleaning services provider is not limited to just dishwasher and sponge wipes. They apply multiple chemicals according to the stains and resolving the pungent smell. Here are the things to know before you're going to search for kitchen cleaning experts near me.
First things first:
Oven plus stove cleaning
Sinks and pipes
Refrigerator plus freezer
Electrical appliances and dishwashers
Equipment and utensils
Storage and cupboards
Floor and under the sink
Cabinets and counters
It all starts with the basics:
The beginning of pre-cleaning is like, clear the counters, clearing the spice boxes, and de-clutter the pantry area.
Even, they utilize various chemical solutions that remove stubborn stains and marks instantly.
Organizes refrigerator and freezer like deep cleaning the tray, rubber sides, drawer, and maintain the belongings systematically.
After that, organizing the cupboards and drawers and apply pests according are crucial.
Cleaning the appliances and equipment like oven, chimney, grinder, toaster, dishes, or more.
After that cleaning the hidden areas like under the sink, behind the refrigerator, corner of the walls, or more.
And the final touch-up with scrubbing machine and drying the floor and kitchen platform.
Now the results will blow your mind. You can compare the before and after cleanliness appearances.
Did you know?
Bad food and kitchen hygiene will never come back to 66% of people at the restaurant.
The negative reviews about cleanliness impact 75% of foodies.
The leakage of sinks and pipes contains 1331 germs per square inch. Strange isn't it?
Viruses stay for more than 3 days on the stainless steel surfaces.
Accordingly, go with the package of deep cleaning+ sanitize+ pest control. It's a better solution to make the entire platform completely clean from the deadliest germs. So, be wise and explore and more to get kitchen deep cleaning. Don't forget to clear the doubts for further transparent dealing.
Every kitchen's priority is cleanliness!
At ZoopGo we serve all-in-one services with affordable kitchen cleaning service charges. So, you just need to visit www.zoopgo.com and scroll the list of the providers. Well done! You shortlisted us so now contact us at 1800-12312-9655, or email us at [email protected]. Thank you!