Premium Car Services in Hyderabad – Comfort at Your Doorsteps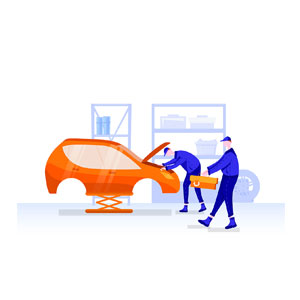 ZoopGo is an incredibly growing aggregator of leading car services in Hyderabad, offering class apart maintenance, and exceptional car care that is backed by rich and refined customer service. It is not only about the car, with ZoopGo customers enjoy an overwhelming car repair services in Hyderabad along with complete end to end cleaning and washing.
With us, you do not have to feel concerned about your car anymore, because we watch your machine 24/7/365 days.  We have also tied up with state of the art car garages in Hyderabad with convenience and peace of mind. There are enormous range of services offered by the service providers like Tyre Replacement, Ceramic Coating, Painting Protection, Full Body Paint, AC Service etc. Check out the best deals available on car repair services in Hyderabad and make sure that you get discounts too. 
Upfront Car Repair Services in Hyderabad
Transparency in the service delivery model is very important, and ZoopGo ensures that the service model of the car repair providers aligns with the requirements of the customers.  Moreover, the customers will get upfront pricing for their car repair and servicing in Hyderabad and the vicinity.  The pricing can be discussed with the respective companies and the customers shall not feel infringed or plundered out of their savings. 
Car Repair and Maintenance with Hassle Free Experience
 Customers cannot only expect upfront car repairs and services at the car garages in Hyderabad, they are also motivated to find out that the car is being serviced by the customers.  Customers need to call the service provider and let rest of the tasks completed by experienced team of mechanics, who have good understanding of the mechanics and the automotive. The peace of mind, along with smooth car repairs and service gives the advantage to the customers even after the completion of service. The service providers are qualified and certified from the able bodies and you will get quality checks on engine, spares and many other things.    Get beyond the normal car repair and maintenance services. ZoopGo is changing the service delivery patterns by adding car service providers in its colossal database.   .
Car Repair in Hyderabad – Services Provided by Skilled Car Mechanics
Get your car serviced by skilled and experienced mechanics in Hyderabad and enjoy the value for money.  We are the trustworthy aggregator of the elite car repair services in Hyderabad, serving the needs of your priceless car. Service providers on our portal have been carefully selected to ensure superior car maintenance carried out on the micro and macro levels.  We are motivated by our vision, and we strive hard and harder each day to align to our Omni channel service model. 
Satisfaction from the First Day
ZoopGo works on strategies to bring the customers and service providers on a common platform where a common dialog is initiated and service deliverance is met efficiently without any compromises. We feel contended only when the customers get the best garages and car repair in Hyderabad. ZoopGo always abide by the promise of giving the car best repairs at all times in Hyderabad and around.  
When your car needs repair or maintenance, finding a trustworthy and skilled service provider is essential for a hassle-free experience. ZoopGo is a leading online platform that connects car owners with verified and reliable providers of car repair in Hyderabad. With a wide network of professionals, It is ensured that your car receives top-notch care and attention. Here are the benefits of choosing ZoopGo for all your car repair needs in Hyderabad.
Book Expert Car Repair in Hyderabad From ZoopGo For Reliable Solutions
Comprehensive Range of Services:  The service providers associated with ZoopGo offer a comprehensive range of car repair and maintenance services in Hyderabad. Whether you need routine maintenance like oil changes and filter replacements or major repairs such as engine overhauls or transmission work, we have got you covered. From electrical repairs to brake servicing, suspension repairs to AC maintenance, the trusted service providers offer solutions for all car-related issues.

Verified and Reliable Service Providers: The providers of car repair services in Hyderabad understand the importance of quality and reliability when it comes to car repair services. They meticulously verify each service provider before listing them on their platform. This includes checking licenses, certifications, and customer reviews. 
Skilled and Experienced Technicians: The car repair service providers available through ZoopGo are equipped with skilled and experienced technicians. These professionals have in-depth knowledge of various car makes and models and are well-versed in diagnosing and repairing a wide range of car issues. They stay updated with the latest industry trends and technologies to ensure that your car receives the best possible care.
Convenient Booking Process: ZoopGo simplifies the process of booking car repair services in Hyderabad. Through their user-friendly website or mobile app, you can easily browse through the available service providers, compare their offerings, and select the one that best suits your requirements. Booking an appointment is just a few clicks away, allowing you to schedule repairs at your convenience.
Transparent Pricing: At ZoopGo, transparency in pricing is a priority. The listed car garages in Hyderabad offer competitive and fair pricing for their services. You can request cost estimates upfront, ensuring that you have a clear understanding of the expenses involved. This transparency enables you to make informed decisions and plan your budget accordingly.
Timely Service and On-Time Delivery: With ZoopGo, you can expect prompt and timely service. The service providers strive to complete repairs within the agreed-upon timelines, minimizing any inconvenience caused by prolonged vehicle downtime. They understand the value of your time and make every effort to deliver your car back to you in a fully repaired and ready-to-drive condition.
Customer Support: ZoopGo prioritizes customer satisfaction and provides dedicated customer support to address any queries or concerns you may have. Their responsive and knowledgeable support team is available to assist you throughout the process, ensuring a smooth and satisfactory experience. 
Hire the Best Car Mechanics in Hyderabad Near You For Stress-Free Experience

When it comes to car repair services in Hyderabad, ZoopGo is your go-to platform for finding reliable and skilled mechanics near your location. With our extensive network of verified service providers, convenient booking process, transparent pricing, and commitment to customer satisfaction, ZoopGo ensures that your car receives the expert care it deserves. Trust ZoopGo to connect you with the best car garages in Hyderabad, giving you peace of mind and getting you back on the road in no time.