Top Wedding Planner in Gurgaon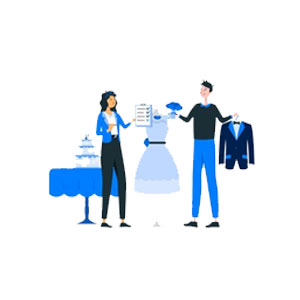 Unquestionably, a Wedding is the most awaited and enticing moment of one's life and so everyone wishes to celebrate it on the most sparkling and largest spectrum. Unique arrangements of the latest trends are the most desirable aspect that one wants to employ in one's most charming event through hiring the most trusted, proficient, and thrifty Wedding Planner in Gurgaon as well as in other cities too. ZoopGo ensures to provide you the finest option of choosing the most suitable service provider in the most convenient way. All our enrolled wedding planners are thoroughly certified and ZoopGo verifies their authenticity and proficiency before listing them on its online platform.
You can find easily top-ranked Wedding Planners in Gurgaon near me on ZoopGo App. View the images to get a complete view of the events that different wedding planners have organized previously. You can read the reviews and ratings shared by customers who have already availed of their services and then decide after comparing the service prices with the quality services offered by them.
Unarguably, Planning is believed to be the backbone of the successful execution of a vivacious wedding ceremony. Amidst the hectic schedule, we know that offering enough time to your wedding planning is quite difficult. Thus, hiring the most skilled wedding planner through ZoopGo becomes mandatory. A list of top most Gurgaon Wedding Planners is offered to you within minutes for personalized customized wedding exigencies and favorable Gurgaon Wedding planner Price for you to choose the most suitable one.
Hire the Best Wedding Planner Easily and Instantly from ZoopGo
We always welcome talented wedding planners to join our online team of top wedding planners in Gurgaon. We roam around the city to find these in different corners of the city. The skills, previous records, and reviews about these wedding planners are crucially analyzed by the ZoopGo experts to select the best wedding planners and list them on our portal in different categories and almost every budget that allows you to choose the one as per your requirements and budget. From ZoopGo, you can obtain the top options within minutes. You just have to fill up our online inquiry form with simple details and click on submit.
Things that you should avoid while choosing Wedding Planners
You must be very conscious not only till the actual day of the wedding but until the entire session ends smoothly, you come back home with your partner, all your guests return to their place and all your liabilities get over. You must understand that a single little issue may spoil the entire zeal of the party on the actual wedding day. Thus ZoopGo suggests you consider the following terms with good care before hiring Wedding Planners in Gurgaon and in other cities too. 
Do not hire the wedding planner without going through their experience and reviews.
Never make a delay in hiring the event planner in Gurgaon; you may miss the chance to work with a suitable one.
Never hire a planner with little knowledge of your wedding location.
Do not ignore to meet your planner personally. Things are better discussed and explained in person than over calls or texts.
Do not sign the contract without reading it thoroughly and carefully.
But there is almost zero percent of chance to face any sort of complication while and after hiring Wedding Planners in Gurgaon. We, provide you everything readymade. However, you must be careful with the above terms for a smooth experience.