Hire Top-Notch Car Rubbing and Polishing Services in Gurgaon through ZoopGo & Put Pride in Your Drive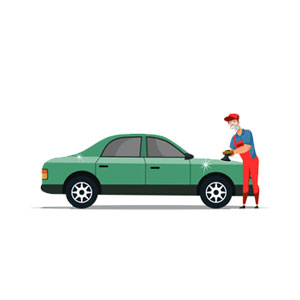 A car is not just four wheels and a machine but a home. The dearest possession we own after home. Just like home, the car is something that reveals a lot about its owner's personality. Hence, maintaining its integrity with proper maintenance is almost a necessity to keep it looking great week in, week out. Keeping the context in mind - Regular car rubbing and polishing is crucial to make your car look shinier and healthier. ZoopGo, with over a decade of experience, 7000+ service providers, 1500+ happy customers, are the best platform to connect with top-notch providers for car polishing and car rubbing in Gurgaon and make your four-wheeler look as good as new. 
Why does your car need professional car rubbing and polishing services in Gurgaon? 
Professional car rubbing and polishing are crucial for keeping it in the best shape. Defects on a car's exterior, such as scratches, stone marks, stains, bird droppings, and marks of acid rains, ruin the top coat of the paint. Rubbing will remove these defects and give your car exterior surface a neat look. While polishing removes the oxidized paint on the surface and provides a smooth and glossy shine to the car. In a nutshell, professional car rubbing and car polishing in Gurgaon extend the life and beauty of your car's exterior.
Why should you find car rubbing and polishing services in Gurgaon through us? 
Among the umpteen options available on Google, finding the right service provider is daunting and time-consuming. ZoopGo is the best way to cut through the noise of search engine and connect with verified and credible service providers for car rubbing and polishing. Moreover, we do a thorough background screening before enlisting businesses/service providers on our platform to provide our valued customers best services. 
How can you find car rubbing and polishing services in Gurgaon through us? 
The process of finding prominent car rubbing and polishing services in Gurgaon is fairly simple. All you require to do is fill out a form, which is available on our portal, with your specific requirements and details. Our customer care support executives will analyze your needs and provide you with instant quotes from the top four service providers in a short period. You can compare those quotes and pick out one that best matches your preferences. For further clarity, you can turn to our dashboard feature. The user-friendly feature enables you to check the ratings and reviews of the service providers and draw a conclusion. 
Our novel features 
     24/7 customer care assistance 
      Verified services
      Instant free quotes from the top four service providers 
      Dashboard facility
      Simple and Swift
How to reach to ZoopGo to find car rubbing and polishing services in Gurgaon? 
You can give us a call on our toll-free number - 1800-12312-9655. Our experts' will sincerely cater to your professional car rubbing and cleaning needs.