Hire Best Rated Photographers in Vasundhara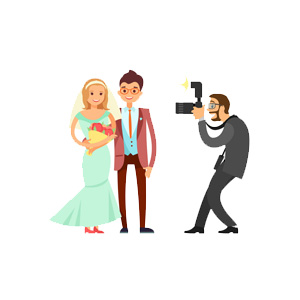 Vasundhara is the most sought after area for house-hunters in Ghaziabad. It's close to Delhi and Noida, which makes it easy to commute for those working here. Photographers in Vasundhara (Ghaziabad) are required by the residents of the area and businesses based close by for various reasons. Photography is not as simple as it seems. Nowadays we all have smartphones with excellent cameras but rarely does the quality of the photos we capture match the quality of photos clicked by the professionals. They use large equipment which they can optimize to focus on different moments. Photography is like painting, we all have access to paints, brushes and canvases but everyone can not draw as well as the master artist.
How the experienced photographers will guide you?
There are always requirements for good photographers be it wedding, pre-wedding, birthday or corporate party photoshoots. Most of the Pre Wedding Photographers in Vasundhara have experience of having captured pre-wedding photos of a number of engaged couples.
They help the couple in shortlisting venues which can be nearby tourist resorts, hotels or any venue of your choice.
They can also guide you towards the fashion houses that will have the right costumes for such photographs.
Once everything is finalised the couple and the photographer will go to the chosen location and capture portrait photographs i.e. the photographer asks the couple to sit or stand in certain poses together, with a certain background and clicks their photos.
What extra efforts do the photographers make?
Every pre-wedding photoshoot will be followed by the wedding photoshoot on your special day.  Wedding Photographers in Vasundhara know the entire routine and even the newest wedding photographers have seen at least 10 weddings as a junior or an apprentice. This is a tough job, as you have to hold positions and with a large crowd around. You will have to literally keep running around during the party capturing photos of the arrival of the couple and the guests and capture photos of the ceremony as it progresses.
How do the photographers prepare their setting?
Fashion is probably more important to women than to men, but we all like to wear nice clothes. Fashion Photographers in Vasundhara capture photos of models with clothes or accessories on them. These photos can be clicked at a fashion show or a fashion photoshoot. At the fashion photoshoot, the photographer uses the appropriate background and lighting so that the right effects are seen in the photos.
How the suggestions of seasoned photographers will go a long way?
After the wedding the next important part of married life is maternity. The lady is pregnant and everyone in the family is eagerly waiting for the new arrival. Most women would like this period to be captured in photos, even if it is just a day.  Maternity Photographers in Vasundhara as always will recommend venues and costumes. The husband and little kids of the family can also be captured in these photos. When your kids grow up they too can see what their mother looked  like when she was expecting them.
What do you need the corporate photographers for?
Vasundhara is a prime location due to the proximity of offices of large companies. These companies often organize corporate events where the Corporate Photographers in Vasundhara are required. They capture photos when an important speech is delivered or when an achievement is toasted. They may be called into the offices to click pictures for the customers to give an idea of what happens behind the scenes.
We at ZoopGo are here to help you speed up the search process. Providing you quotes is the first and not the last step. You just need to complete a small requirements form and give us your contact details and in moments 4 best quotes free of cost will be on your mobile. If you have any queries you can always connect with us at 1800-12312-9655.