Hire the best professionals through ZoopGo for quality pest control in Indirapuram, Ghaziabad!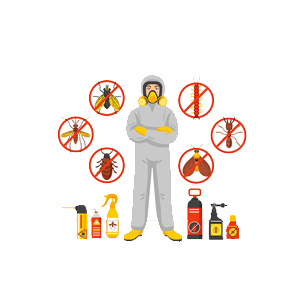 Ankita had been refusing to sit on her favourite couch for many days. The reason was LIZARD. A lizard fell on her body one day, and from then she refused to sit in that place because it caused her herpetophobia. One fine day, Kritika (Her friend) told her about ZoopGo for hiring professionals who offer quality lizard pest control in Indirapuram, Ghaziabad. But have you seen what pests caused her mental illness? Pests are downright creepy. They can cause damage to your property, health and snitch your mental peace. And, so with the first sign of pest infestation, consider hiring pest control professionals through ZoopGo and enjoy living peacefully in a pest-free and healthy home.
Why professional pest control services?
Pests are considered harmful to humans, animals, and the environment. Professional pest control and management is compulsory to eliminate or regulate their population.
3+ Reasons to hire professionals for pest control in Indirapuram, Ghaziabad
Preventing damage to the home - Insects like ants, beetles, carpenter ants consume wood and make a home structure weak and vulnerable to collapse, leaving household members at risk. Professionals' intervention is imperative as they will eliminate the problem in one go, protecting your wall from falling.
Preventing allergies - Pests like cockroaches, mice and rats produce allergens and cause skin allergies, asthma and other respiratory diseases. Cockroaches are one of the leading causes of asthma in young children. Professionals eliminate the problem from the root cause and prevent allergy. If you are looking for quality cockroach pest control in Indirapuram, Ghaziabad! consider hiring professionals through us. Professionals listed on our portal offer quality services and ensure 100% effectiveness in controlling pests.
Avoiding health risks - Pests carry thousands of viruses and bacteria and cause serious health issues, especially in immune-compromised individuals, and can send you to the hospital. That, in turn, can translate to expensive medical costs.
Preventing deterioration - Professional pest control is needed to be applied to save valuables (furniture, carpets and clothing) and avoid the expenses associated with repairs and replacements. You can reach out to us for hiring professionals for quality termite pest control in Indirapuram, Ghaziabad.
Why ZoopGo?
Being India's one of the prominent portals, ZoopGo is a one-stop-solution with 2000+ verified and licensed service partners, has been connecting customers with supreme quality pest control services in Ghaziabad for many years and has served 84000+ customers so far. From logistics to the garage, education to health & wellness, you can avail multiple services through us. We, ZoopGo, enlist thousands of pest control companies, including professionals who offer quality bed bugs pest control in Indirapuram, Ghaziabad, so you can avail complete pest solution from one place and protect your property from these nasty pests.
Exclusive offerings
Verified, registered, and licensed partners
Easy and economic
Quick quotes
24x7 customer support
Personalized Dashboard
Promptness in endeavors
Client centric orientation
Are you looking for 'Professional Pest control professionals near me'? Feel free to reach out to us. For further queries, call us on 1800-12312-9655 (Toll-free).