Hire Professional and Top Painting Services in Indirapuram Through Zoopgo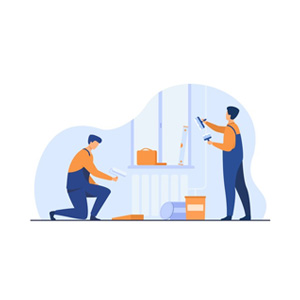 Do You have a house painting/renovation plan in Indirapuram, Ghaziabad? If Yes! Here you may have some vibrant ideas to decorate your home stunningly. People across the world dream to enjoy the best experience of staying in a luxurious, personable, and well-decorated home. Here, wall painting plays a decent role, almost the most important role in the decoration/beautification of a home.
If you are struggling to hire the reliable painters for your home, then there is no need to take any stress as Zoopgo connects you with the reputed and professional painting contractors operating around your area instantly. Therefore, before you plan to hire professionals for painting services in Indirapuram, you must know the most demanding or popular five wall painting trendy options.
Wall Painting
The choice of color and design completely depends upon your choice. But, you need to consult your painter first to discuss that which type and color of paints, enamel, the brush will be required to bring out the perfect style of your painting imagination. The idea of combining two different colors in different proportions can make surprising results.
Tiles
It is highly suggested by the painting services contractors in Indirapuram and preferred for the walls of bedrooms and living rooms.  However, using tiles in the kitchen and the washroom can be commonly observed. You can wipe or wash them easily.
Plastering
Plasters would be a great choice for themed decoration, like sports, cartoons, nature-oriented, etc. The most perfect patterns for this genre are – Textured, Minerals, and Structural. But, you need to hire only competent home painters in Indirapuram to bring out the desirable look.
Stone Decors
Stone decor is widely supposed to be a lucrative option for house painting. Although it is an expensive option, yet is used on a grand scale due to its durability, shine, and uniqueness.  You must discuss this with the providers of the painting services in Indirapuram before choosing this option.
Wall Papers
You may find lots of options with wallpapers. This is high in demand. Using it is comparatively easier than painting. You may choose any of the following varieties – washable, non-washable, 3D texture, etc. They bring a dynamic look to walls as well as to rooms. They come with different personalized designs, like for the kitchen, the hall, the bedrooms, etc.
Hire the Best Wall Painters in Indirapuram Through Zoopgo
There is no doubt that painting is one of the most significant elements in terms of the home decoration. So, choose the most suitable and best painting services contractors in Indirapuram wisely and prefer only reliable professionals for creative and desirable painting services in Ghaziabad according to your budget and requirements. If you have time, then you can also carry out a well-detailed research work to ensure you get the quality and timely services, exceeding your expectations.   
Zoopgo is one of the best online platforms where you can get connected with the top painting  service providers in Ghaziabad instantly by filling up a short form, compare the review ratings and quotes, hire the right one according to your preferences and budget. The home or office shop painters in Indirapuram associated with us are verified and provide the quality painting services to the customers.
Hire the Top Painting Services in Indirapuram and Make a BIG DIFFERENCE to your Home!