Top Event Planners And Management Experts in Ghaziabad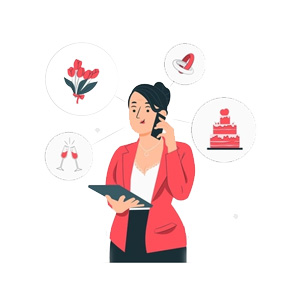 Ghaziabad, close to New Delhi, is an important city in the Indian state of Uttar Pradesh, popularly known as 'Gateway to UP'. It is a part of the national capital Delhi region and also a planned industrial city. On one hand where the employees are running here and there to arrange for a formal conference meeting or an annual party, on the other side, families, and relatives are visiting shops, talking with the vendors for a family celebration.
So, everywhere you will go, it's all about arranging the perfect occasion, which will be the epitome of creativity and uniqueness. That's one of the reasons which have made Ghaziabad a living platform for the event planning agencies and firms. But, even when these professional planners are accustomed to helping in a plethora of event arrangements, there are a lot of speculations about them.
For What Types Of Event You Will Get An Event Planner In Ghaziabad?
Most times, you will get the event planners in Ghaziabad offering multiple services in a single package. This means that they are accustomed to arranging various event types and not just the ones about Indian festivities and celebrations.
This has given an upper hand to the event planners to work amongst various sectors of the society, be it the corporate firms or the social clubs arranging a marathon race or a club festival.
In Ghaziabad, some of the events which are widely handled, managed, and arranged by the professional event planning agencies are:
Indian cultural events like big, fat weddings- both on-site and destination weddings, birthdays, engagements, pre-wedding functions, house-warming, etc
Corporate events like conferences, workshops, lectures, meetings, and so on
Social parties like pool parties, DJ nights, annual charity events, opening ceremonies, gala balls, yearly dinners, cruise events, and so on
Club events like sports, local cultural entertainment functions, festivities, and so on
What Are The Advantages In Hiring A Professional Event Planner In Ghaziabad?
Though you might think that being an expert you can arrange your event, hiring an event planner in Ghaziabad comes in handy. Not only they are budget-friendly, but also they are quite experienced and proficient in their jobs, ensuring that your event would become the hot topic of discussion the next day.
So, considering the hesitant scenario, which arises in anyone's mind the moment they contemplate in hiring a planner, here are some of the proven advantages of doing so.
Event managers in Ghaziabad save a lot of money as they have a partnership with multiple vendors, thus offering you the chance to choose the one within your budget.
Professional event planners will help you in dealing with the stress of the event, thus allowing you to share the burden.
The best advantage of hiring a professional is in making the event of the top quality, with all the arrangements being up to the mark.
Choosing the best venue is not easy, especially when you are on your own. That's the reason where the event planners come in handy.
Another added advantage of choosing the event planners in Ghaziabad is that you can customize your event's décor, the food menu, and even the sitting arrangements as per your own choice.
FROM WHERE CAN YOU HIRE THE BEST EVENT PLANNER IN Ghaziabad?
Hiring the best event planner in Ghaziabad is not an easy job, especially not when you are surrounded by multiple planning agencies. And the choice becomes more difficult when you don't have a certificate stating which is good and which isn't.
This is the reason which has fuelled ZoopGo to design a platform where one can scroll through multiple event planning agencies, select the ones whom they like and then at last, finalize the best one. It's more of a matching platform, ensuring that the best pair of user and service provider can form without any unwanted hassles.
WHY IS ZOOPGO THE BEST SITE TO CHOOSE AN EVENT PLANNER IN Ghaziabad?
Well, the very first question everyone will ask is why, why ZoopGo is the only option?
Let's answer the question which is perhaps plaguing your mind since the time you have heard about ZoopGo.
First and foremost, you will have a lot of options in your hand but ZoopGo is the most efficient, trusted, and one-stop solution amongst them.
Secondly, ZoopGo always takes those event planners in Ghaziabad as their partner who is popular in the market as dedicated and passionate agencies.
ZoopGo ensures that all their partners are licensed and the individual team member is adequately certified in their area of work.
At ZoopGo, you will not get ten or twenty options, but rather the list goes on and on.
ZoopGo is perfect when you are looking for a variety of different event planners in Ghaziabad.
HOW TO CHOOSE THE BEST EVENT PLANNER IN Ghaziabad FROM ZOOPGO?
If you are still not familiar with the concept of choosing the best event planner, then here is a small guide about how you can do it.
Make sure you know what you need
Be very clear about your ideas and thoughts to the planner
Hire a team for more significant events and an individual for a small event
Make sure that they know how to arrange the type of game you will be organizing
The event planning agency should be proficient in work, passionate, creative, and flexible
General Event Planner FAQ
Q. DO I NEED TO HIRE A SEPARATE DECORATOR FOR MY EVENT?
Most times, the event planners have their decorator, and if not, then they will hire a separate vendor.
Q. WHAT TYPE OF PLANNER DO I NEED FOR MY GALA EVENT?
For a gala dinner, you can choose any event planner in Ghaziabad.
Q. WILL THE MONEY BE REFUNDED IF I CANCEL THE EVENT?
You need to follow the refund and cancellation policy to know what will happen if you canceled the event last moment.
Q. HOW WILL I KNOW THAT THE EVENT PLANNER IS CREATIVE?
Well, for that you can choose to ask them something like what theme to pick or what destination will be the best
Q. WILL I GET MY MONEY BACK IF I CANCEL THE DEAL LAST MOMENT?
Most of the event planners in Ghaziabad discuss the cancellation terms and conditions with their clients.
Q. WHAT IF ANY OF THE VENDORS DOESN'T COME BEFORE THE EVENT?
The event planners always have a backup plan, so that they can fill in emergencies.
Q. WILL THE EVENT PLANNER IN Ghaziabad HELP IN SAVING MONEY ON VENUES?
Yes, most of the event planners offer discounts on choosing a venue.
Q. I AM PLANNING A DESTINATION WEDDING. CAN I HIRE A Ghaziabad-BASED EVENT PLANNER?
Yes, the wedding event planners in Ghaziabad are always up for arranging destination weddings. 
Q. WILL THE EVENT PLANNING AGENCY IN Ghaziabad ARRANGE FOR DECORATORS?
Yes, it is the responsibility of the planner to arrange for decorators and florists.
Q.  DO I NEED TO HIRE A SEPARATE CATERER FOR WEDDING FUNCTIONS IN Ghaziabad?
Most of the event planners in Delhi have their own catering vendor and if not, then they will arrange the vendor for your event.
Q.  IS A FREELANCER BETTER THAN AN EVENT PLANNING AGENCY IN Ghaziabad?
This depends upon you entirely. If you are looking for a company, then freelancers are best.
Q. CAN I RELY ON A NEWCOMER EVENT PLANNER FOR HANDLING A BIG EVENT?
Actually, the term 'experience' means experience in dealing with events and not the number of years they are in the market. So, if it's a newcomer, then their expertise and knowledge will matter.