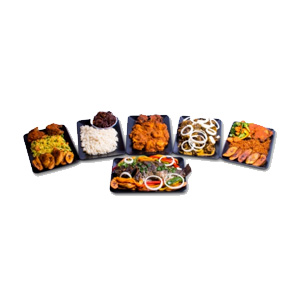 Caterers in Ballabgarh FAQs
What is each plate cost for the non-vegetarian cuisines offered by the caterers in Ballabhgarh?
The charges of the per plate non-vegetarian dishes generally depends upon the kind of food items you have actually selected for your event or party. However, if the number of guests attending the party are on the higher side, then there are chances that the Ballabhgarh caterers may offer some discount on the package.
For what kind of event I can hire the Ballabhgarh caterers?
The catering service providers in Ballabgarh listed on Zoopgo can be hired for various kinds of the services like wedding, birthday, housewarming, baby shower, maternity, baby shoot, corporate party and so on.
What are the various cuisines offered by the wedding caterers in Ballabgarh?
The Ballabhgarh wedding caterers are skilled and professional enough to prepare any kind of dishes according to requirements like the North Indian, South Indian, Mughlai, Chinese, Continental, etc.
Do I need to pay any kind of transportation charges to the caterers in Ballabgarh?
It entirely depends upon the policy or terms and conditions of the catering service providers in Ballabgarh.
How can I hire the engagement event caterers in Ballabgarh near me?
It is a very easy task, all you are required to do is to fill up a short form on the Zoopgo website or mobile application. Get connected with the catering service providers instantly. Compare the quotes, reviews, services offered, etc and hire the one that matches your requirements and budget.
Will the birthday party caterers in Ballabgarh offer the eggless desserts?
Yes, the birthday party catering service providers in Ballabgarh can make any kind of the desserts that you would like to serve the guests. Whether you like the desert to be eggless or with the egg, it totally depends upon your needs and you need to tell the caterers in advance, if there are any special requirements from your side.