Connect With the Best Photographers in Jangpura Delhi in Just a Click with ZoopGo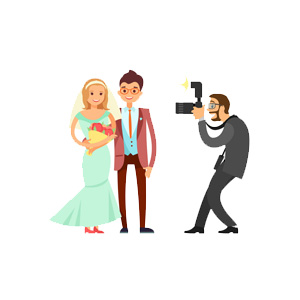 A wedding shoot will enable you to relive all the romantic moments with your beloved partner that you will cherish forever. If you are planning to exchange wedding vows in Jangpura, Delhi, then a wedding shoot will be helpful. Hiring the top photographers in Jangpura, who will take amazing photos, is important if you want the shoot to be memorable. And while having wonderful pictures taken by professionals may seem exciting, finding and hiring reputable Jangpura wedding photography service providers within your price range is not always easy. For your convenience, Zoopgo has compiled a comprehensive and verified list of the verified photographers you can hire at reasonable rates.
How to Hire the Best Photographers in Jangpura for Your Wedding?
Making several calls to the various photography service providers in Jangpura for your wedding might be a difficult task. Here are some important factors you should take into account to make sure you hire skilled service providers:
Examine the Portfolio

: Looking through a photographer's portfolio is one of the best ways to gauge the quality of their work in Jangpura. Take a close look at the various wedding photography trends, and only select the

photographers in Jangpura Extension

after being completely satisfied with their work. 
Set Up a Meeting

: If you want to create a wedding video in addition to images, it is essential that you meet with wedding

videographers in Jangpura Extension

and thoroughly discuss your needs. This will go a long way toward preventing future inconvenience.
Make a Decision Regarding the Photography Style

: It's critical that you be certain of the kind of wedding photography service you want. If this is your first time photographing, you should enlist the help of the Jangpura photography service providers to get the best results. 
Price Information

: It is important to know how much the providers of wedding photography services in Jangpura will cost. In order to have the best photos or videos within your price range, it is crucial that you try to discuss your requirements with the service providers if you also need the videography services.
Sign the Contract:

Once the talks are complete and you are satisfied with the photography package being offered, you should seal the deal with the

wedding photographers in Jangpura

by signing a contract or paying a specified deposit.
How Can Zoopgo Help You to Choose the Best Photographers in Jangpura Delhi
Knowledge at Your Fingertips

: You may browse a complete list of photography service providers in Jangpura using the Zoopgo mobile app or website, read customer reviews, and choose the best one based on your needs.

Quality Resources

: Reading quality blogs will help you familiarize yourself with the key details of wedding photography and the various styles that are currently in use. 

Select the Best Photographers

: Once you have finished exploring, fill out a brief form to hire the best wedding or

birthday photographers in Jangpura

.
Get Zoopgo's assistance to find the top photographers in Jangpura Extension to help you save these priceless moments with your beloved partner. These pictures will properly capture your relationship's great bond.