Wall Painters in Delhi:  Top Painting Contractors near You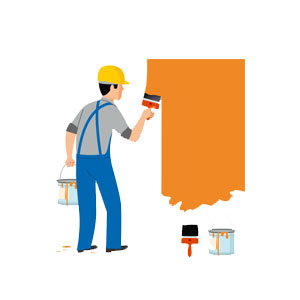 Wall Painting Services in Delhi Near Me provides an exclusive range of paints and paint products from leading brands and the widest range of painting services to you at your doorsteps. It's our technical expertise that we amalgam our artistic flair into our painting proficiency and creates wall designs that are multi-colored with glowing shades, textures, and designs. Our company proudly presents to you with the latest range of paint products from Asian paints, Berger Paints, and Dulux Paints in all colors, shades, designs, and textures. Our teams of professionally skilled painters possess the technical know-how of presenting and painting walls with the latest designs that will charm your senses. Our company's professionals are highly disciplined, well organized, consistent, creative, and passionate about their work. We present to you a colorful range of paints and services of the most accomplished painters who have specialization in interior painting, exterior painting, metal painting, wood painting, and waterproofing paint services. We strictly work on written professional terms and delivers the finest painting services with satisfactory results.
Major highlights of our Painting Service Company is:-
We list major highlights of our painting service company.
Provides genuine paint products from all leading brands like Asian Paints, Berger Paints, and Dulux Paints
Possess adequate knowledge of all types of paint products
Provides all types of tools and equipment for painting any type of wall
Offering Specialized services of all types of painters to customers
Having a staff of sincere and obedient workers
Work on professional terms
Works in a disciplined manner
Takes all precautionary safety measures
Good Communication Skills
Customer-Friendly Services
Customization of Painting Services as per customer's requirements
Factors affecting the cost of our painting services
There are essential factors that play a major part in affecting the cost of our painting services and they are:-
Type of Paint Used
Brand and Quality of Paint Used
Surfaces to be painted
Types of other paint products used
Types of tools like a paintbrush, ladder, etc used for painting job
Cost of Specialized painting services like Waterproofing Painting
Time Frame for the entire painting project
Mode and Method of Payment
Types of Painting Services offered by our company
To cater the widest range of customer, we present us as one of the most resourceful as well as a reliable service provider of this business field.
We provide our customers with different types of painting services and varieties of painters Near You that are highly skilled as well as experienced to accomplish any type of painting job.
Interior Wall Painting- Our Company provides our customers with high-quality interior wall paints from leading brands (Asian Paints, Berger Paints, and Dulux Paints). The interior wall paints come in three categories- Matte paint, Satin or Semi-Gloss, and Gloss Paints. Our painting experts will guide you in selecting the category of interior paints that suits your needs.
Exterior Wall Painting- We provide our customers with the widest range of exterior paints from leading brands that have high-quality resins, adhesives, colors, and additives. The latest exterior paints come with acrylic formulations that make the surface of home exteriors smoother and better.
Wood Painting-It aims at glorifying the beauty as well as protecting the surfaces of your expensive furniture. We provide our customers with varieties of wood paints and painting products that protect their furniture from the unpredictable attacks of pests and insects.
Metal Painting- Our range of metal paints protects all types of metal surfaces of your home from corrosion by forming a protective layer. We also offer different types of primers for different types of metal surfaces.
Waterproofing Painting- We provide products that provide waterproofing solutions to your dampened walls. Our painters use scientifically proven waterproofing products that not only protect your walls but also make them shine for years. Our waterproofing services comprised of terrace waterproofing, bathroom waterproofing, roof waterproofing, basement waterproofing, and wall waterproofing.