Give your Four Wheeler the best treatment with top Car Repair in Delhi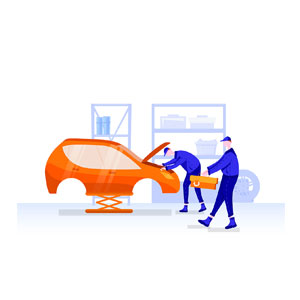 We tend to keep our vehicle just as good as ourselves because we have invested a lot of hard-earned money in that car. For efficient and better function, the car or any other vehicle needs periodic maintenance and service. Delhi, There is plenty of car repair and maintenance in Delhi. There are various components in a car which require close and regular maintenance such as AC service, engine service, fluids check, etc. But, Usually, we get stuck in finding the best and most genuine car repair near me. However, ZoopGo can make your work much earlier in searching for the most reliable car repair workshop. 
Doesn't matter what kind of repair work or maintenance you are looking for, you will surely get the best service in the market through ZoopGo. Nowadays, people hardly find any time for themselves. Therefore, we generally tend to delay even the necessary repair work of our cars. Which eventually cost us more in later times, therefore, it is not advised to make any delay in car service and repair work. 
Why ZoopGo is a great choice for Automobile Service
Along with many household services like deep cleaning, pest control, event management, etc. ZoopGo also deals in Automobile service and repair work. ZoopGo, as an online web portal has a great establishment and grasp over the business. One of the main advantages of taking service from ZoopGo is that it provides a doorstep facility for your convenience. This facility will be of utmost benefit for those individuals who are working professionals and don't have sufficient time. You might be having some confusion about how ZoopGo works. Well, We are basically the aggregator, who connects you with verified and genuine car workshops 
Benefits of Verified Car Repair Shops in Delhi
You can find a big pool of car repair service providers in Delhi. However, we must look for the best genuine and authentic Car Service in Delhi. A verified service provider is keen on providing the best of the best service and satisfaction to clients. Let's list out the benefits of a Verified car repair dealer.
Usage of genuine and original spare parts during repair work and maintenance. 
Experienced mechanics with satisfactory skills
You will get the original invoice for the repair service
Easy to get updates through SMS or WhatsApp regarding the service.
Book an appointment with ZoopGo for any car repair and Maintenance
Maybe your car music system is not working properly or your Car AC is having some issues. Well, regardless of your requirement, you can connect with ZoopGo anytime from anywhere. Your car can come in contact with any issues such as car dent repair in Delhi or Music or AC repair. We also have solutions for every part of your beloved car. A car comprises many services and maintenance-related components such as Denting Painting, Periodic services, tyres and wheels, etc. you can very easily book an appointment with ZoopGo through call or fill the form available on the website.