Find The Pest Control In Chandigarh Via ZoopGo And Say Adios To Pests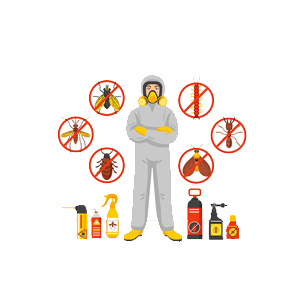 Tired after trying everything to control pest infestation in your home? Sorry, to say but DIY tips do not last long to terminate those pests, they will come again and again. Well, do not panic because you are in the right place now. ZoopGo has plenty of professionals to help you in pest control in Chandigarh. First, let's understand why DIY Pest Control do not work for the long term and why you must hire experts from ZoopGo.
Why Do DIY Pest Control Methods Do Not Last Long? Answered By ZoopGo Experts
Well, you must have seen on social media - DO THIS to terminate pests…DO THAT..Blah Blah. Some of them work but in most situations, hiring professionals is necessary. DIY pest control methods often do not last long for several reasons, as explained by experts in pest control treatment in Chandigarh from ZoopGo.
Lack of The Knowledge -

Pest control professionals have deep knowledge, expertise and experience about different pests, their behaviors, and the most effective methods to terminate them. DIY attempts often lack this expertise, leading to ineffective treatments.

Not Addressing the Root Cause -

DIY methods might eliminate visible pests, but they often fail to address the root cause. Most pests can have nests, eggs, or hidden colonies that DIY methods might miss. Without terminating the entire population, and destroying the root cause, pests will return.

Lack of Effective Products -

Pest control professionals have access to the right products that are more effective than home made or cheap solutions available to the general public. DIY methods might not have the strength to tackle severe infestations.

This is why you must trust professional pest control services in Chandigarh instead of relying on DIY methods for pest control to get satisfied results.
Why You Must Trust ZoopGo When Hiring Pest Control Services in Chandigarh?
Well, the partners in ZoopGo are verified and experienced in this field of pest control treatment. With years of experience and expertise in dealing with different pests they know how to solve the problem of pest infestation including bed bugs control in Chandigarh. Below are the reason why you should trust experts from ZoopGo -
Professionally Skilled Service Provider - Our partners are skilled professionals with deep knowledge and years of experience in dealing with various types of pests prevalent in Chandigarh.
Specialized Solutions - Every pest is unique and requires different solutions and methods to terminate them completely. Which is why our experts plan strategies according to the problem. If you are searching for termite control in Chandigarh.
Budget Friendly - Quality services in a budget friendly manner? Sounds unreal but it's possible via ZoopGo. Our experts provide quality solutions under affordable pest control charges.
How To Hire Professional Pest Control Services Provider in Chandigarh via ZoopGo?
Instead of typing "Best Pest Control in Chandigarh near me" and scrolling through hundreds of results, just open the ZoopGo app or website. The process is easy and quick via ZoopGo. Just follow the below easy steps given.
Submit Details In The Online Form: Fill all the necessary details required.
Get a Call From ZoopGo: After submitting your details ZoopGo will contact you for more further details.
Compare and Select From 4 Quotations: You will get 4 free quotations of our trusted partner for pest control treatment in Chandigarh.
Connect With ZoopGo -
Call 1800-12312-9655 (toll free) to get connected with ZoopGo. You can also submit your requirements online by filling the request form on our website.