ZoopGo: Know the easiest way to hire experienced photographers in Banashankari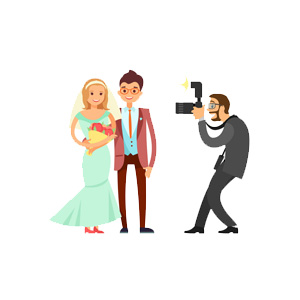 When it comes to photography you don't need any occasion! Say cheese! and click a good selfie. But, you know what, your phone selfies can't compete with DSLR photos. So, experienced Photographers in Banashankari  (Bangalore) are highly preferable. Whether it's a wedding occasion or any fashion photography, they're highly preferable for the complete services.
It means ZoopGo is the hub of professional photographers in India. If you're living in any urban or rural area it's easy to book your nearby services. When you visit our genuine web portal and sign up with us, you will experience the very best features of shortlisting better services near you.
How can you finalize experienced Wedding Photographers in Banashankari  at ZoopGo?
You need to sign up with us and explore the entire list according to the requirements. We're not limited to any 1 or 2 services because we broadened our parameters of multiple providers. ZoopGo is committed to providing quality services for better end-user experiences.
Steps to finalize photographer on our web portal:
There is a wide range of photography services for commercial reasons, weddings, fashion, or more. You can opt for any experienced one according to the requirements. Here, it's easy to get the best one for you within some easy steps.
You're invited to ZoopGo which allows you to connect with experienced photographers near you.
Personalize the list according to your current location and budget.
Then you can book them and finalize the date and time.
After that, they'll visit your doorstep and offer you the best services according to your requirements.
You can discuss the packages and values per day or the entire event.
Overall you need to visit our web portal to explore the very best services according to the requirements.
First, you need to make a list of what you want. For example, you can opt for the best Fashion Photographers in Banashankari  for your cosmetic or any fashion business.
Why do you need to trust ZoopGo for photography services?
For many years our photographers offered value-added services according to requirements. We understand all your concerns. That's why our professional customer support will be here for a better solution. You can check out our verified customer feedback section for complete trust.
We always prefer to offer you the quality of services that enhances the trust values of ZoopGo. Our experienced providers are highly preferable where you can easily get transparent services. When it comes to charges and the best packages here our Maternity Photographers in Banashankari  offer you very competitive rates.
Even our other photographers always offer you genuine rates according to all your required services. Here you'll end up with the best providers according to what you want.
What's Next!
If you're unable to find any suitable photographers, all you need to do is connect with our customer service team at 1800-12312-9655 or you can mail us at [email protected] Visit our website and book any professional photography services in Bangalore.