Book pest control services in Aurangabad from ZoopGo and free your space from deadly pests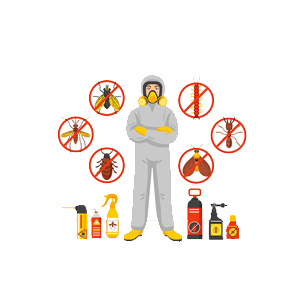 What's happening to the world? Homes are places to live for humans, but in most houses, cockroaches are living in houses by considering their own space. This bothers you and irritates you, and you are fed up with seeing these insects and cockroaches and you just want to get rid of them. Welcome, you are in the right place—Zoopgo will help you do that.    
What are the types of pest control services you can hire    
There are different types of pest control services that you can hire according to your preference and which suits you better. 
Chemical Pest Control
In this type of treatment, chemicals are used to treat the pests. This method is famous and most people opt for it due to its effective results. If you are facing severe pest problems in your house, then this method is suitable to treat the pests. 
Physical Pest Control
In physical pest control, physical methods like baiting and spider nets are used to control the pests.  
Biological Pest Control
In biological pest control, living organisms are used to control pest populations. 
Common Pest Control Servies in Aurangabad
There are several common pest control services that are offered by professional pest control companies in Aurangabad. Below are the most common pest control services are listed:
1. General Pest Control: This service involves the use of insecticides and other treatments to control common household pests such as ants, cockroaches, spiders, and rodents.
2. Termite Control: This service involves the use of specialized treatments to prevent and eliminate termites, which can cause significant damage to wooden structures.
3. Bed Bug Control: This service involves the use of specialized treatments to eliminate bed bugs, which can be difficult to eradicate and can cause significant discomfort and irritation.
4. Mosquito Control: This service involves the use of treatments to reduce mosquito populations in and around homes and businesses, which can help to prevent the spread of mosquito-borne illnesses.
5. Wildlife Control: This service involves the humane removal of wildlife such as raccoons and squirrels from homes and businesses, as well as measures to prevent future infestations.
6. Bird Control: This service involves the use of humane methods to deter birds from roosting in and around buildings, which can cause damage and create unsanitary conditions.
7. Fly Control: This service involves the use of treatments to control fly populations, which can be a nuisance and a potential health hazard in certain settings such as restaurants and food processing facilities.
Professional pest control companies in Aurangabad can offer a range of other specialized services depending on the specific needs of their clients.
Who are the best local pest control service providers in Aurangabad?
There are so many pest control services company which is working very well in Aurangabad and offering their professional service to clients. Some of the top notch company is listed here:
(1) United Pest Control Services, 280 reviews, 4.8 rating
(2) Seva Facility Services, 334 reviews, 4.8 rating
(3) Global Pest Control, 204 Reviews, 4.2 Rating
(4) Godrej Pest Control, 112 Reviews, 5.0 Rating
(5) Pest Pro, 85 Reviews,  4.9
Why it is important to hire home pest control services in Aurangabad 
Hiring home pest control services in Aurangabad, or any location for that matter, is crucial for several reasons. 


Firstly, these services like the cockroach control service in Aurangabad help maintain a clean and healthy living environment. Pests like rodents, insects and termites can carry diseases and cause allergies, posing serious health risks to inhabitants.


Secondly, pests can cause significant structural damage to homes. Termites, for example, can silently eat away at wooden structures, weakening the foundation of the house over time. Investing in termite control service in Aurangabad can prevent such structural damage, saving homeowners from expensive repairs in the long run.


Thirdly, pests can have a negative impact on the overall quality of life. They can disrupt daily activities, disturb sleep and create a sense of discomfort and unease. Engaging professionals in bed bug control services in Aurangabad to handle pest infestations ensures a comfortable and peaceful living environment.


Additionally, mosquito control services contribute to preserving the value of a property. A well-maintained, pest-free home retains its resale value, while a property with a history of pest issues may lose its attractiveness to potential buyers.
In Aurangabad, where tropical climate conditions are conducive to pest breeding, hiring pest control services becomes even more important. These professionals are equipped with the expertise, tools, and treatments necessary to tackle local pest challenges effectively.
In essence, home pest control in Aurangabad is indispensable for safeguarding health, maintaining property integrity, enhancing the quality of life, and preserving property value. You can hire professionals for pest control services from one of the most trusted platforms ZoopGo by calling toll-free number 1800-12312-9655.