Find the Best Makeup Artists in Ahmedabad Instantly With ZoopGo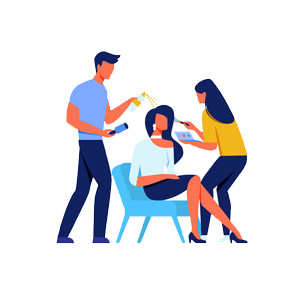 Ahmedabad is one of the growing cities in India. As the infrastructure is growing, and lifestyle is becoming more convenient with this you can see the growth of the makeup artists industry. Nowadays variety and options for the hiring of makeup artists is increasing day by day. You can book online makeup artists in Ahmedabad or hire a freelance makeup artist in Ahmedabad through ZoopGo at affordable prices. 
Everyone has the right to look pretty on their special day and a makeup artist's job is to transform someone's look. There is no boundation to look pretty.  Some of you organize an event and organize guest makeup in Ahmedabad, making sure it looks aesthetic. 
Party makeup artists in Ahmedabad offer numerous services, some services are listed below: 
HD make up 
Airbrush makeup 
Matte makeup 
Natural makeup 
Nail art 
Hair Stylist 
Event makeup (birthday, celebration, home functions, anniversary…etc)
Pre-wedding shoot makeup 
Regular makeup 
Bridal Makeup 
In bridal makeup, there are so many types of makeup available in the market like Lakme makeup artists in Ahmedabad and lotus makeup artists in Ahmedabad. 
How to find the best makeup artist in Ahmedabad 
(1) Pre-planning 
Last-minute hustle is more stressful. It's better to prepare in advance than at the last minute. Prepare how you want to look and gather images related to that look to be specific to your needs.  Pre-planning helps you to understand whether you are feeling connected with your makeup artist and hair stylists in Ahmedabad or not. Are your vibes matching or not? 
(2) Don't judge a book by its cover 
These quotes you heard a lot and it implies here as well. Are they showing the truth?  Today there are so many apps and lighting filters there and these additional filters completely transform the photos, so don't believe what you see in their profile. Ask them to show their previous work, experience in the market, ratings, and reviews. 
(3) Products they are using 
What are the products they use? Even in the basic party makeup in Ahmedabad, product quality matters. On a daily basis, you all are facing numerous skin problems and product quality that you can't even take a chance on. An expiry date product causes rashes to your skin. And makeup products consume a lot of chemicals that are harmful to your skin. 
(4) Less made more impact than loud 
It's better to carry less than more. Too much loud makeup doesn't look good. It's not only about good looks it's about being remembered in the event. So, when you are planning for your look, plan your look according to natural makeup artists in Ahmedabad to impact others.  
(5) Previous work and trial 
Ask them to show they're their previous work. There are some makeup styles like HD makeup artists in Ahmedabad where you need expertise.
There is the fact that you need to remember that what others think about you doesn't matter. Are you feeling confident about your look that matters? Don't take too much pressure on what others might think about you. Makeup is just a thing that is applied to the face and washed after some hours but the confidence and elegance in your style lasts forever.
The right makeup artist guides you in your looks. You can visit ZoopGo for searching and hiring professional makeup artists in Ahmedabad.