Hire Best Event Planners in Ahmedabad Instantly With ZoopGo and Save Money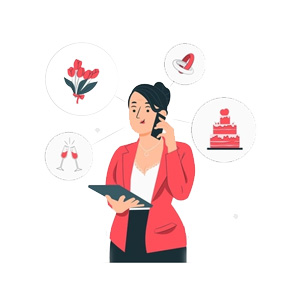 An event planner is in charge of planning and putting together events in the most attractive and professional manner possible. They are expected to carry out duties that include examining the key factors that contribute to an event's success. The best event planners in Ahmedabad work with clients to understand their requirements and then execute events successfully according to their budget.  
In order to provide the clients with the event they had in mind, they engage with them to learn about their expectations. Being a competitive sector, ZoopGo only connects the customers with the verified event planning service providers who specialize in offering the best services. Consistent results delivery and excellent performance set professionals apart from others that are partnered with us. 
Why You Should Hire Professional Event Planners in Ahmedabad 
The most effective networks in the industry are used by event planners to secure last-minute executions. The reasons for hiring them are many and some of them are as follows:
Spending Less on Searching Vendors and Venues: Professional event planners can assist you in reducing unforeseen expenses that frequently arise while holding events when it comes to searching for the vendors and venues. All the tasks are efficiently managed by the best private party planner in Ahmedabad in a hassle-free manner.


Arrangement and Detailing: With years of experience, event planners guarantee a comprehensive plan and pay special attention to the details that contribute to a successful event.


Negotiation Techniques: Ahmedabad event planners provide unbeatable rates thanks to their expertise in the field and negotiating abilities.


Save Time and Reduce Stress: You can cut down on the amount of time needed to deal with any event. The stress of making several decisions, traveling, searching for venues and other activities can be efficiently managed by the event planners in Ahmedabad easily.
How Can ZoopGo Help to Find the Top Event Planners Near Me in Ahmedabad?
ZoopGo is one of the most reliable online platforms where you can find the professional birthday or wedding planners in Ahmedabad instantly. Simply tell us what you need for an event, and the service providers will assist you get in touch with the right event organizer straight away. 
There are some prominent benefits of hiring the event planners through us, which are:
You will get a comprehensive list of the experienced event planners in Ahmedabad having years of experience in the industry. 
The associated service providers take into an account each client's needs and assist in helping them organize an event in a stress free manner. 
You also get round the clock customer support service in case you have any query with regard to the charges or working style of the event planners.
Services Professional Event Planners in Ahmedabad Provide
The following is a list of the services an event planner provides to their clients:
Event planning
Event coordination
Decorations for events
Venue selection 
Management of all audiovisual and multimedia requirements
Support for social media marketing 
Where Can I Find a Reliable Ahmedabad Event Planner?
If you are looking to find the best wedding, birthday or corporate event planners in Ahmedabad, then you can visit ZoopGo and call on our toll free number 1800-12312-9655 or fill up a short form on the portal. This will help you to hire the right event planner for your upcoming event easily.