Hire top caterers in Prabha Devi, Mumbai, through ZoopGo and make your party tempting! 
Karenge party sari raat... We do party all night!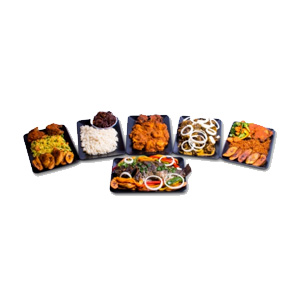 Yes, that's what Mumbaikars do! Certainly, Mumbians are big-time foodies and party freaks! Be it weddings or get-togethers: they don't leave any chance to party hard. Food is a show-stopper of any function. So, if it's your time to throw a party, hire professional caterers in Prabha Devi, Mumbai, through ZoopGo, and make your party deliciously irresistible. 
Hire top caterers in Prabha Devi, Mumbai, through us, for every festive and formal function
Be it big or intimate: every function needs to be catered to with perfection and care. Our catering service providers offer services for all types of functions and events. They will delight your guests with their tasteful offerings and services, making your function memorable. Wedding caterers in Prabha Devi, Mumbai, associated with us, provide a full range of services and ensure you have a great time celebrating your events. 
9 Scrumptious street food of Mumbai to comprise in your next party
| | | |
| --- | --- | --- |
| (1) Vada Pav  | 2) Akuri on toast | (3) Falooda  |
| (4) Misal Pav | (5) Bheja fry | (6) Dabeli  |
| (7) Pav Bhaaji  | (8) Bhel Puri & Sev Puri | (9) Pani Puri |
Add charm and deliciousness to your festivity with us!
At ZoopGo, we, being India's one of the trusted and highest-rated online aggregator platforms, offer numerous on-demand services, including home, event, logistics, and automobile, by bringing thousands of assured service partners under its umbrella. We successfully have served 90000+ customers so far by connecting them with their perfect service match. You can elevate your festivity by hiring veg and non-veg caterers in Prabha Devi, Mumbai, through us. 
5+ Key reasons for hiring caterers in Prabha Devi, Mumbai, with us 
(1) Save time - We help you cut through the chaos of search engines and connect you with top caterers. Whether you are looking for birthday or wedding caterers in Prabha Devi, Mumbai, we connect you with your perfect catering match. Our experts send you the First Four Free Quotes as you share your catering requirements and contact info. You can check and compare those quotes and book services that best suit your budget and catering needs.
(2) Verified Service Partners - We check the credentials of service providers meticulously and screen out those that do not meet the standard to ensure you get professional standards of service.
(3) Personalized Dashboard - We take reviews and ratings seriously. You can read reviews of catering service providers through the Dashboard widget and make the right choice, keeping their offerings, rates, and credibility in mind.  
(4) Economical Prices - Our motto is to provide quality services to customers at competitive prices. If you want to turn a birthday party into an unforgettable feast, hire birthday party caterers in Prabha Devi, Mumbai, through us. 
(5) On-Demand Customer Support - We take our customers' queries seriously and respond to them quickly under our 24/7 customer support. 
(6) Last Minute Bookings - Whatever the reason, we help our customers with short-notice bookings. Whether business meetings or convocation, we connect you with the best corporate caterers in Prabha Devi, Mumbai, intending to fulfill your catering needs. 
Happy to assist! Call us at 1800-12312-9655 (Toll-free) if you are looking for caterers near me in Mumbai. You can also drop us a line at [email protected]