Hire the Services of Professional Photographers in Kondapur, Hyderabad via ZoopGo & Save Your Memories for Lifetime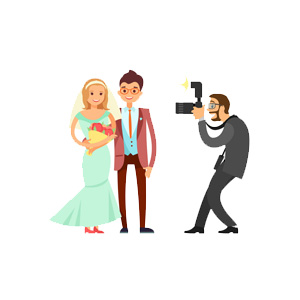 Occasions are an intrinsic part of our lives, and these occasions like a birthday bash, a marriage ceremony, or else, an anniversary party will take away your stress. We also look forward to enjoying these wonderful social occasions and preserving their memories for lifelong.  For this purpose, we love to hire the aid of photographers to preserve these amazing memories for a lifetime. If you are solemnizing an event in Hyderabad, or say your wedding ceremony is scheduled in this wonderful city, you can approach the services of professional Wedding photographers in Kondapur.
Social ceremonies like birthday bashes, wedding ceremonies, or else pre-wedding ceremonies make our monotonous life quite interesting, and therefore,  several times, we look forward to hiring the aid of photographers in Hyderabad to preserve these memories. So, first, let's take a look at what are those diverse functions for which we can approach professional photographers.
Important Occasions that Professional Photographers in Kondapur Will Cover
Wedding Photographers: If your wedding ceremony is scheduled in Kondapur, you will search for the services of professional Wedding Photographers in Kondapur, Hyderabad.
Birthday-Bash Photographers: Is your spouse's birthday approaching, or else, you want the support of photographers to cover the birthday bash of your son.  You will love to opt for the services of professional Birthday-Party Photographers in Kondapur.
Pre-Wedding Photographers: Weddings bring a great difference in our lives, and we often look forward to fulfilling our wedding rituals with fun and craze. The pre-wedding ceremony is also a key way to form a bond with your spouse. Therefore, people often look for professional services related to Pre-Wedding Photographers in Kondapur.
Maternity Photographers: Becoming pregnant is a wonderful way of bringing creation to the world. Therefore, modern would-be mothers are quite open to booking the services of professional maternity photographers in Kondapur, Hyderabad.
Anniversary Celebrations Photography: Wedding anniversaries are also a wonderful part of our life. Therefore, we never hesitate to book the services of professional photographers for anniversary celebrations. On our wedding anniversary, or else, college pass-out anniversary, we celebrate every function with mirth and hire the services of photographers.
For these diverse occasions, people look for the assistance of professional photographers and Videographers in Kondapur.
What are the Different Ways to Hire for the Services of Professional Pre-Wedding Photographers in Kondapur?
If you want to hire photographers in Kondapur, you can get references from those friends who have recently tied the knot.
For further assistance, you can also go ahead and hunt the internet and book reliable pre-wedding photographers in advance.
For the best results, you can go ahead and approach the services of professional pre-wedding photographers from the top online portals such as ZoopGo.
What are the Key Features that ZoopGo Provides to Us When Choosing Videographers in Kondapur via them?
You can compare diverse reviews and recommendations of different videographers via our dashboard facility.
It is easy to save your overall money up to 25 percent while booking videographers in Kondapur via ZoopGo
You will get access to reliable and verified videographers in almost no time.
How to Approach Wedding Photographers in Kondapur, Hyderabad via ZoopGo?

You can approach the services of professional wedding photographers via ZoopGo by calling our toll-free number 1800-12312-9655, or else, shoot an email to us at [email protected].