Best Photographers in Mayur Vihar for Wedding, Fashion and Product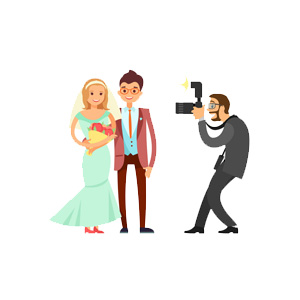 Mayur Vihar houses people of all economic sections with residences divided on the basis of their income. It is close to Noida which is on the UP border. It is well connected to the rest of the city via metro. It has a number of fashion houses on Patparganj road. Residents and businesses require the services of Photographers in Mayur Vihar, for different purposes. Like the rest of the world, there is no shortage of amateur photographers here. They all keep experimenting with their smartphones and free photo-editing software. They have a lot to learn before they can go pro. The professionals, especially those who have joined the profession recently have experimented with these smartphones and moved on to bigger cameras with expensive lenses.
There are photographers for any and all purposes
We don't look to photograph every moment of our life but only those occasions and moments that we wish to remember and remind others of. Wedding Photographers in Mayur Vihar, as their name suggests are here to help you with your photography requirements on that special day of your life. They have experience of standing for long hours in the evenings with their heavy cameras and assistants with lighting equipment. They capture candid photos of the guests enjoying themselves and portrait photos of the bride and groom separately, together and with the guests.
How would you like the photographs to be delivered to you?
Everyone young and old is reminded that another year has passed, through their birthdays. You want to enjoy this day to the fullest to remind yourself of the year that was and to go with full energy to the year that is coming. Birthday Photographers in Mayur Vihar, are specialists who know what needs to be clicked, the birthday boy or girl with their friends, them with decorations, them blowing candles and cutting the cake, the cake being stuffed into people's mouths and so on. They can instantly supply the digital version of the photos while the albums will take some time to prepare.
What use your photos and videos will be put to?
Today the pre-wedding photography is the latest trend. Pre Wedding Photographers in Mayur Vihar, are requested by the couple to be wed, to capture photographs of them in a secluded area. They can be in the costume they wish to be photographed in, which they can discuss and choose. The photographer will recommend some locations and the couple can choose one of their liking too. These photos and even the videos are flashed during the wedding to show the guests how the two of them are getting along.
Why the best photographers are always in demand?
Delhi is known for its fashion shows and even the e-commerce sites selling clothes have pictures of models in the dress they are offering for sale. Fashion Photographers in Mayur Vihar, capture photos at fashion events or for anyone who has a need for fashion photographs. The best of them are requested by fashion magazines to cover for them.
Why do mothers need photographers?
Most mothers to be want to remember this time of their life and want to record how they are feeling. Maternity Photographers in Mayur Vihar, come in to assist such ladies by clicking them in interesting costumes, poses and at suitable locations. The first priority for such photographers is the safety of the lady and they try to make her feel as comfortable as possible.
We at ZoopGo are here to improve your search experience for service providers like photographers. You just need to give us your requirements and we will find the best matches for your photography needs. The quotes will be furnished on your mobile in moments of you giving us your contact details. You can always connect with us at 1800-12312-9655 to talk to our consultants for any queries you may have.